The year has ended, and my existence as a DJ requires me to supply my Top Ten list. This is it in no particular order.
The Blues – I took a trip through the south this year. In Mississippi, I stopped in Clarksdale (where Robert Johnson sold his soul to the devil, an occasion now marked by a sad, easy-to-miss sculpture and a Church's Chicken), and I joined the generation of middle-aged white men before me in getting into the blues.
Lucky for me, that generation has started to sell their records, and I came upon a store where someone had just dumped their entire collection, allowing me to grow my fairly paltry stock of blues records back at home into something more substantial. I've particularly fallen in love with Son House, whose "Grinnin' In Your Face" I posted on the blog in October.

Gospel and Diva House – The first parties that I ever went to in New York were Body and Soul and Shelter. I also grew up in church mesmerized by a gospel singer named Eunice Mayfield. That means, of course, that I am into gospel and diva house, which I have been more than pleased to see in resurgence over the past year, starting with Omar S's set with us back in January. It was pretty much all he played.

Everything by Arttu – Who is this guy Arttu? He only released three records and a handful of remixes this year, but wow. All of them were stellar. Tough and tight. More. Please.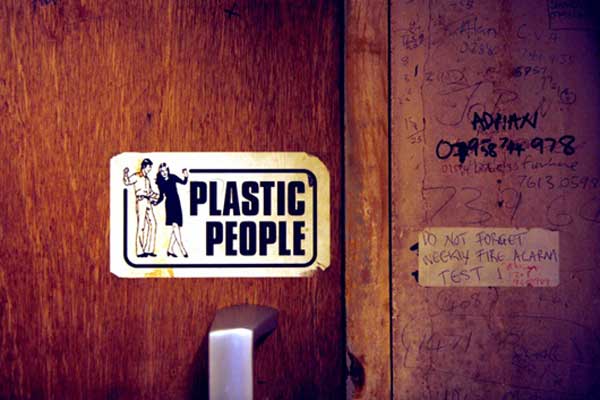 Plastic People – The main reason we throw Mister Saturday Night as a loft party is that clubs in New York are generally a bummer. The word 'club' is mostly stigmatized, which makes winning hearts and minds an uphill battle. Sadly, most of the people who have enough resources to open a club go for either the purple-lighting/swimming pool/white furniture/fancy-time clichés, 90s throw-back clichés or druggy clichés, none of which really suit us.
I assume this isn't particular to New York. I couldn't really name one club I've been to anywhere that's gotten it just right in years. Plastic People in London changed all that, though. When Eamon and I walked in before our gig there last February, I was blown away before the soundsystem (which is incredible) was even turned on. The room feels good just to stand in: low ceilings and subtle acoustic treatments make you feel like you're in a cozy little cabin. And the staff are as sweet as they could be. I was talking to a friend about Plastic, and he said that a bartender had once walked out from behind the bar, tapped him on the shoulder and put the change he had forgotten at the bar into his hand. Plastic People is heaven as far as I'm concerned. I'm overjoyed that we're doing our first ever Mister Saturday Night out of town there, and I hope that the day comes soon that we've got something like it in New York.
Jay Simon's "Faith" – I never stopped loving the staples like D'Angelo and Jill Scott, but I'd forgotten about a lot of the 90s r&b that I used to listen to on the radio growing up. Thanks to Jay Simon's "Faith," a re-work of Faith Evan's "You Used To Love Me," I'm eating it up once again, having fun mixing it into super-slow house and hip-hop at home. It probably won't be too long before you get hit with a slow jam set by me at the Mister.
Trainspotting Eamon – About the only downside to your DJ partner having great taste is that you have to force yourself not to buy and play almost every new record he pulls out. Alfabet's "Lap The Music" was too much for me to resist.
dRUMMAN's "White Tie Black Hole" – Of course I did some digging for myself, too. Perhaps the best record I found was Jori Hulkkonen's release under the dRUMMAN moniker, which, not coincidentally, also has the best name of any record that I found this year.
Radiohead – Radiohead's bandwagon is one that I've been on since I was thirteen, which does not make me special in any way, I know. But to not mention the band that continues to dig deep to challenge themselves, still hold onto their longtime fans, and bring on new converts, even after so many years and so much success, would be a shame. They continue to be true to themselves, unflinching in their creative output and their image. That they continue to be a breath of fresh air, while so many other bands that I love have faded, is unparalleled.
Johnick – I am not a completist, the kind of guy that finds out about one artist in a genre and then goes digging to find out about every related artist, their influences, histories and such. So I guess it shouldn't surprise me that even though I love plenty of associated house producers from the 90s, and I know all the labels on which they were releasing records, I didn't know about Johnick (that's Johnny "D" De Mario and Nicholas "Nicky P" Palermo, Jr.) until this year. That's one of the great things about music. There's always something amazing and new to discover. Here's to more great discoveries in 2012.
Honorable Mentions – These are no less important than the things above, but I realize that I've already listed nine things, so I have to cram these last two into one of my spots. New productions from Todd Terje after so many years away were great to hear. "Snooze 4 Love" is a masterpiece, and "Ragysh" worked no matter what the situation was. "Myrtle Avenue" by Floating Points was really special to both Eamon and me. What an honor for one of our favorite producers to give a nod to our party, especially in a piece of music that is so brilliant.