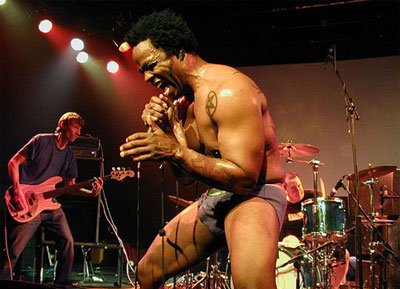 This Saturday, we've got a party. But not just any party; it's Halloween, and we're dressing things up more than usual at 12-turn-13. While we're hanging the decorations from the ceilings and filling up the bathtub for apple-bobbing, our minds will be elsewhere – it's a good week to go out in New York.
For our more cerebral side, there's an orchestral tribute to Italian-Jewish writer/chemist Primo Levi at Asia Society; and for the side of us that likes to get weirded out, there's a reading by Oxbow singer, Eugene Robinson, who is insane (see picture above). Thursday, from 5 to 7 at Other Music, a photo exhibition about the Magnetic Fields opens, and Stephin Merritt, the band's leader, plays the background music.
Fabulous Diamonds, a two-piece drone band with slow-chugging drums and effect-laden analog synths, plays Todd P's Monster Island Basement on Friday, and on Sunday, the day after our Hallowed affair, the real Halloween takes place, again with Mister P. He's got a big show happening at the Ridgewood Masonic Temple with Janka Nabay, the Sierra Leonese king of Bubu Music. Finally, Jonathan Richman helps you come down on Monday. Details for everything after the jump.
Tue, Oct 26 / Transparency of the Word Concert: A Primo Levi Tribute at Asia Society / more info / directions
Wed, Oct 27 / Eugene Robinson of Oxbow reads from his new book at Union Pool / more info / directions
Thur, Oct 28 / Magnetic Fields Photo Exhibition with Stephin Merritt Soundtracking at Other Music / more info / directions
Fri, Oct 29 / Fabulous Diamonds with Oneida at Monster Island Basement / more info / directions
Sat, Oct 30 / Mister Saturday Night's Halloween Special at 12-turn-13
Sun, Oct 31 / Todd P's Halloween Party with Janka Nabay at the Ridgewood Masonic Temple / more info / directions
Mon Nov 1,  / Jonathan Richman at Bowery Ballroom / more info / directions
[photo by Emma J Porter]