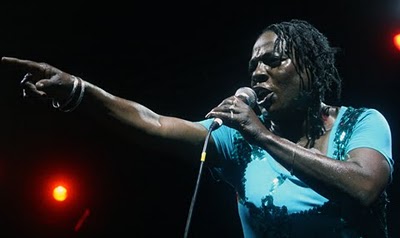 We had the Saturday off, so we decided to check the incomparable Sharon Jones and her mighty Dap Kings as they took the stage at the Prospect Park bandshell in front of a crowd of 20,000. If there had been a roof, it most certainly would have ended up in flames.

The 54-year-old Ms. Jones sang and danced her heart out for nearly two and a half hours, proving conclusively that age ain't nothin' but a number. It was a beautiful way to end another summer of free shows in the park and a testament to the enduring power of soul music.
Music Snobbery has the entire set list (which is exhausting just to read!) and a set of great photos from the foot of the stage, including shots with special guest Lee Fields. And check out this video of Jones and Co. performing the intimate highlight "Mama Don't Like My Man" from this year's brilliant LP, I Learned the Hard Way.