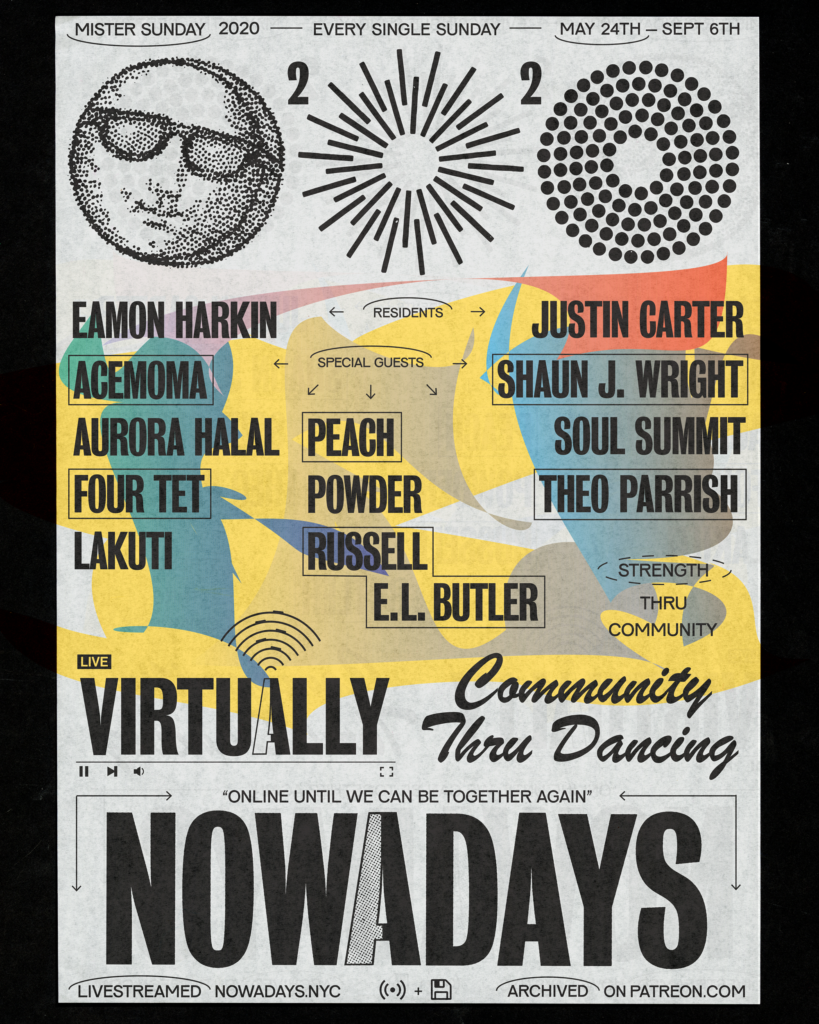 If you're like us, you're probably longing for some sign that brighter days are ahead as we move through spring toward summer. The first outdoor Mister Sunday in May is usually the brightest spot of our year, one that signals a long season of outdoor dances and fellowship under the trees to come.
While we still can't be together in person, we have figured out a way to do the next best thing. Every Sunday from this weekend until Labor Day, we'll be broadcasting Mister Sunday on the Virtually Nowadays airwaves for free from 5pm to 9pm. Clear some space on your roof, find a socially distant spot in the park to set up a speaker, or at least open your window, and get down with us. You can tune in here.
AceMoMa, Aurora Halal, Four Tet, Lakuti, Peach, Powder, Russell E. L. Butler, Shaun J. Wright, Soul Summit and Theo Parrish will join resident DJs Justin Carter and Eamon Harkin. We want you to be part of it, too, so we're asking you to email footage (taken horizontally) of yourself dancing to hello@nowadays.nyc, so we can incorporate you into the stream.
For our first Sunday, May 24th, 2020, we'll be broadcasting a four-hour video of Eamon Harkin and Justin Carter from a full Mister Sunday in a summer past. We'll announce coming Sundays' lineups each week on our email list (sign up on the right) and on our Instagram, so stay tuned there.
If you can, please support the Nowadays Patreon. All Mister Sunday sets will be archived for future viewing, and, most importantly, your ongoing contributions there also help ensure we'll have a home to return to when the pandemic is over.
Beyond that, Nowadays has staff that needs help. These are the people that keep you safe and having fun throughout all our summers. Many of them still haven't received unemployment benefits, and many others simply aren't eligible. There are also many of our neighbors in need as well. If you can do something, whether it's through our links, or by some other means, please do. We need each other more than ever.
We look forward to seeing you in the virtual great outdoors soon. Until then…