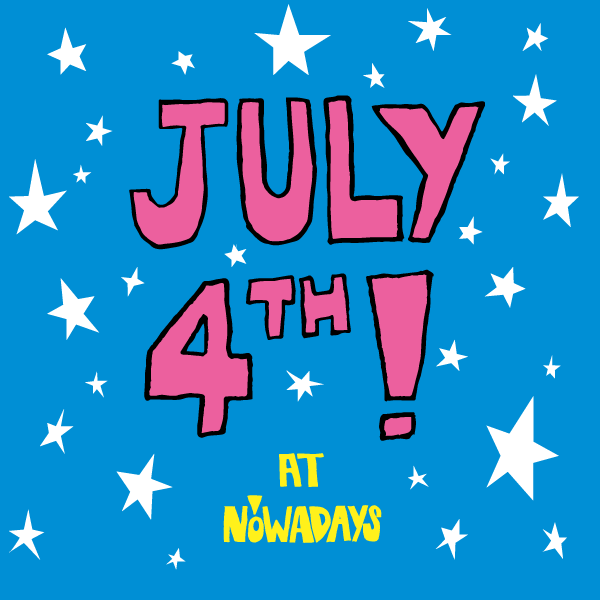 If you're in town this holiday weekend, good news! We've got you covered for July 4th AND July 5th.
For the Fourth we're doing a back yard barbecue at Nowadays. It's not a dance party, but it'll most definitely be a good time. Eamon and Justin are bringing down back-yard-appropriate-LPs from their home listening collections, and they'll be playing them in full, on vinyl, from noon onward; the Nowadays kitchen crew (who generally keep it all-American) are adding corn dogs and bomb pops(!!!) to the menu for extra America-ness; aaaaaand, finally, Eamon's organizing a ping pong tournament. Sign up's first come, first served, and matches start at 2pm. The winner shall be rewarded. Best thing about all that? It's free. Just come down.
As for July 5th? Well, it's Mister Sunday, and you know the drill with that: dancing to good tunes in the great outdoors. What could be better? (By the way, it seems like the advance ticket craze is dying down, so don't stress it too much if you're trying to figure out your weekend. We'll let you know from here out if advance tickets seem like a necessity.)
Hope you have a nice mellow week leading up to the holiday. If you're going out of town, have a great time, and if you're sticking around, we hope to see you at least once!
July 4th at Nowadays // Saturday, July 4th // at 56-06 Cooper Avenue near Wyckoff, Ridgewood // take the L to Halsey // free // all ages // dogs welcome on a leash // general hours, directions and other info about Nowadays 
Mister Sunday // Sunday, July 5th // 3pm – 9pm // at Industry City // 644 2nd Ave, Brooklyn // $15 // advance tickets // all ages