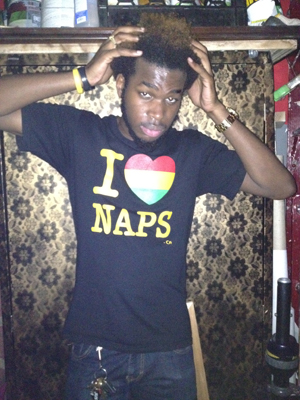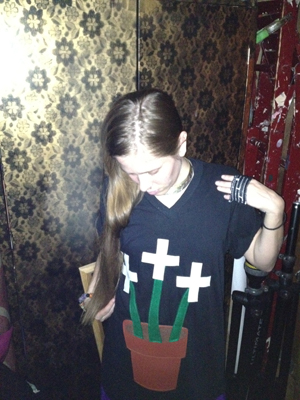 We caught this nice pair stretching out and getting down in a more spacious area of the House Of Yes two Saturdays ago. Meet Avi and Miss Vanilla, equally dressed to impress in their own clothing lines!
MSN: What brought you here?
Avi: Actually, my friend, Vanilla, she invited me. I was going to her house tonight and she was was like, "Yo, you wanna go to a house party?"  and I said, "Why not!"
MSN: So you've never been to one of these parties before?
Avi: I've been to house music parties before but not this particular one.
MSN: Any one or two that you remember particularly?
Avi: Name-wise, no! It's always been random for me.
MSN: What do you like about the parties you go to, or what do you like about house music?
Avi: The beat, and the groove! It just continues on and on and on. Like, "house music all night long." It's literally that!
MSN: Do you listen to dance music at home?
Avi: Yes, I definitely do.
MSN: Do you download mixes, or just listen to whatever you find?
Avi: Mostly whatever I find, because I find that music is so deep, and there's so many artists out there, that it's so hard to keep up, you know what I mean? So I just try to download whatever I find here and there.
MSN: What are your interests, passions?
Avi: I just graduated, I'm a graphic designer. I have a little clothing brand, it's called Contemporary Negro. But that name might change in the future though.
MSN: That name is a little bit controversial!
Avi: Yes, exactly.
MSN: What's the idea behind the clothing line?
Avi: It's just a pro-Black brand. It's just about representing roots and culture. I'm trying to appeal to the youth. You gotta know your past to know your future.
MSN: And you designed the shirt you're wearing?
Avi: Yes!
MSN: Very cool, I dig it! And Miss Vanilla, you brought Avi over here?
Vanilla: Yes! I usually come here with Doctor Jones – Kevin Jones.
MSN: Ah! Yes. We're very familiar with Mister Jones. He's a great guy, dancer and a really good friend of the party. How'd you get to know Kevin?
Vanilla: Well, I'm a DJ-in-training, and he came to see me play like a year and a half ago. It was at a coffee shop. You know, I'm not like these guys – I'm a visual artist.
MSN: What kind of visual art do you do?
Vanilla: I'm multimedia, but right now, I've been working on my pillow line.
MSN: Pillows? Wow.
Vanilla: This is one of my pieces [Vanilla is wearing a soft, fluffy knuckle ring that covers the middle, ring, and pinky fingers. It looks like a tiny pillow.] So right now, I'm mainly working on graphics and clothing construction. I just sold Lorna [our resident MSN bartender] some heart earrings tonight.  I usually carry them on me. She was very nice, and very interested in my work. My line is called Vanilla Medallions.
MSN: So where are you from?
Vanilla: I'm from Connecticut. I've been living in New York for almost ten years.
MSN: What brought you to New York?
Vanilla: Being an artist, you know. The vibe. I can't see myself anywhere else.
MSN: And what got you into music and dancing?
Vanilla: House and hip-hop music in the late 80's early 90's.
MSN: Was there a particular experience that you had, or club or place you went to, that got you into this?
Vanilla: My first introduction to the music was probably by 98.7, when they had they used to have the dance music programs. And a friend of mine, his older brother was a dancer, and was heavy into techno and the whole scene from the '90's – so like, taking tapes of his and listening to them. As far as a party, I can't name a particular one I guess. I would just say that as a dancer, electronic music has a more freeing ability, to me. So that attracts me.
MSN: What other parties do you go to?
Vanilla: I mean, honestly, these guys and Dope Jams are the best parties. I mean, no offense to anyone, but you're not hearing the same shit. I mean, there's other parties – Joe Claussells's party at Club Love. Shelter. Sound Noir. Libation. Anything Jus-Ed does. But the ones presently, that keep me coming back, are these and Dope Jams.
MSN: Cool, thanks. Anyway, back to the party. Any parting words?
Vanilla: Miss Vanilla is the flavor that you savor. Positive Over Negative! Peace!