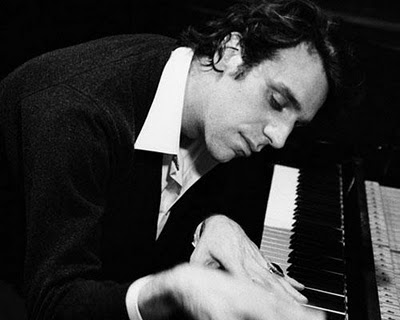 While we're not giddily holding our breath for this Saturday's joint party with Spank, here are a couple other things we'll be doing.
Tonight, BAM opens an exhibition of contemporary artists' takes on record covers. We don't know any of the artists' names, and we don't know what albums they've chosen, but we love BAM, so we're down.  Wednesday, Thursday and Friday, we'll get our live music fixes, first with Caveman, a harmonizing lo-fi quintet; then with post bob saxophonist Joe Lovano; and finally with silly, virtuosic pianist Gonzales.
Sunday, in the aftermath of whatever transcendence occurs on Saturday, we'll go check out Stephane Wrembel at Barbés. Hopefully this time there will be dancing. Monday is a holiday after all.
Tue, Jan 11 / Cover Version: LP at BAM more info / directions
Wed, Jan 12 / Caveman at the Mercury Lounge more info / directions
Thur, Dec 2 / Joe Lovano at the Village Vanguard more info / directions
Fri, Jan 14 / Gonzales at Joe's Pub more info / directions
Sat, Jan 15 / New York, Just Like I Pictured It at 12-turn-13 more info / directions
Sun, Jan 16 / Stephane Wrembel at Barbés more info / directions