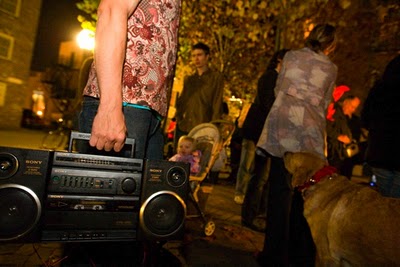 We are thrilled that we do NOT have a Mister Saturday Night this weekend, not because we like a Saturday off (which we do), but because we get to take part in 'Unsilent Night', a tradition that is not just our favorite holiday happening of the year, but one of our favorite New York City experiences, period.
Created by composer Phil Kline, 'Unsilent Night' is a carol for boomboxes. Hundreds of people show up underneath the Washington Square arch, with CDs, mp3s and tapes cued up on their various players, and with a countdown, Kline has them press play. Thus ensues a parade that wanders through the East Village to Tompkins Square Park, where different movements of the ambient masterwork take over entire city blocks, with the sound changing depending on where you stand. The best is when, as everyone congregates at the end, the piece comes to a staggered end, thanks to people late in pressing the start button and low batteries that cause the tapes to run more slowly than their digital counterparts. It's beautiful and wonderful, and you absolutely should not miss it.
Unsilent Night begins at the Washington Square Arch in Manhattan at 7:00pm on Saturday, December 18. Meet under the arch at 6:40pm. Kline hands out a few boomboxes, tapes, and CDs to first folks who arrive. You can bring your own playback device, and you can email to find out about getting the mp3 for download in advance. If you don't have a boombox, don't worry. It's plenty of fun to walk with the group.