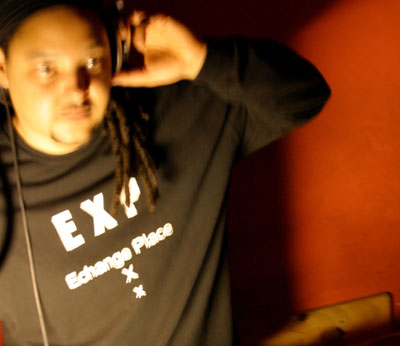 A couple weeks ago, when we were putting the final touches on our New Year's Eve party, we realized that we had an open slot to fill. We thought for a few seconds… and very quickly Eamon and I agreed that DJ Qu was the perfect person to do it. Part of the crop of producers and jocks who've popped up alongside Jus-Ed in the recent past (count among that group Levon Vincent, Fred P and Anthony Parasole), Qu is probably our favorite of the bunch, releasing music that has a certain… how do you say… well, we'll let him explain it.
Here is a mix he's given us to get you in the mood and a few questions and answers that we passed back and forth yesterday.
Justin Carter: Much of the attention you've received for your label, Strength Music, and as a producer has been connected to Levon Vincent, Jus-Ed and Fred P. While there are many things that give you common ground, what do you think are the things that make you unique within that circle?
DJ Qu: I must say that I haven't really given it much thought. The only thing I can say is that no one in the crew sounds alike. Each of us have our own unique sound, and I think that's what makes each of us unique. The way I approach my music is totally different from Ed, Levon or Fred and vice-versa.
JC: This brings up a couple questions for me. First, I wasn't sure whether the connection between you guys was just a convenient angle that writers piled onto or if it was something that you guys actually feel exits between you. Can you tell me how it is that you guys are connected, in practical ways and musically?
Also, if you can explain a little bit about the differences in approach, that would be great. Of course, for anyone who's interested, they can listen for their own takes on the differences, but I'm curious about hearing what you think sets you apart.
DJQ: Basically, we all connect through Jus-Ed. He was the one that brought all of us together. Ed dealt with each one of us on a music level first, and slowly we all met each other. I don't think any of us knew that Ed was building an army even though he was cultivating that idea right in front of our eyes. All the writers that bunched us together got the story right. We all formed a team. All of us run our own labels and do what we want when we want, but we all know that we came in this together with the help of Ed, of course, and we fight to keep it that way. Today, I've spent a lot of valuable time with everyone individually and collectively. We've had deep conversions and traveled the globe together. One knows what the other is up to at all times and not just in music but in life period.
As far as a characteristic musically that sets me apart in particular from the others, [it] is my experience with dance. All the dance classes I taught and performances I did around the globe gave me an understanding of certain rhythms and accents that I respond to. None of the other members did what I did with dance, so I can't see them approaching a song or track the way I would. For the most part, my music represents an aggressive somewhat warrior dance mentality before anything else. Rarely does it represent a simple two-step club dance, even though that's how I dance today. [laughs] I'm sure the other guys have something they been through personally that shaped the way they approach their  song or track that I don't possess.
JC: Outside of your music career, you have a full time job. What do you do by day? How does it affect your musical life?
DJQ: By day, I am a supervisor for a major home improvement retail store named Home Depot. I do that 5 days a week, 9 hours a day. It helps me get by, and actually working there helped me obtain the funds to start my record label, so musically it was a vital part as far as launching my music career. The only draw back might be the time I actually have to work on music at the moment due to the job. Eventually I'm going to cut it down and devote more time towards music and travel. Just waiting for the right time to make that move I guess.
JC: How will you know when it's the right moment? Or what signs are you looking for?
DJQ: I really have know way of knowing when the time is right. That's why I ended that sentence with "I guess". As far as a sign, I think winning the lottery for millions of cold-hard cash would be a good one.
JC: Releases on Strength Music have appeared sporadically since it appeared in 2007. Do you want to do more with the label, or are you content with output at the current levels? If you do want to do more, what would you like to do?
DJQ: The label actually started in 2005. I've read many articles where they got the label's start year wrong. I think the reason for that is because in 2005, when the label started, it didn't receive much distribution. Distributors gave us a hard time cause we were a new label, and it wasn't till I hooked up with brother Jus-Ed that I started receiving decent distribution.
I personally am content with the label's progression. The releases on Strength might feel sporadic to some, cause we took off the whole year of 2009, but aside from that year, it's going on a pretty good rhythm with a lot more to come cause we're not stopping no time soon, Dig.
In 2011, I will be releasing my first solo album titled Gymnastics, which will be spread on a 3 vinyl set, so to me I feel like that's doing more for the label in a sense.
JC: Back to you as a dancer, did your relationship with dance music begin with dancing? How does it play into what you do now?
DJQ: I still have house dance inside my veins from all the years of doin it but i don't physically do it anymore so  please don't see me at the club and want to challenge me to a dance off cause it's not gonna happen. [laughs]
My relationship with dance music totally began with dancing. I probably would have never been a househead if it wasn't for the art of dance. Music and Dance are probably the only true soul-mates on the planet earth. I was a Hip-Hop Dude that went to a Hip-Hop club on the wrong night, and I found myself in a house music club environment and fell in love with it. My Story with the music basically breaks down like this: House Dancing to DJ, DJ to making my own music, making my own music to starting my own record label and the rest is history and future.
JC: Let's talk about you as a hip-hop head turned house head. Clearly there's the shared use of sampling, the idea of the music as a tool for dancing; but was there, or is there something else that pulls these worlds together for you?
DJQ: Hip-Hop and House music derive from the same thing. POOR PEOPLE FINDING A WAY TO MAKE MUSIC. They're both urban music, so it's not surprising that back in the day the Hip-Hop crowd identified with House or club music like they did in the late 80s and early 90s. Today, due to overuse of genres and marketing. It's a lot harder to convert a young person to understand the similarities of the two but it's still possible because TRUTH DON DIE!
JC: Are you still into hip-hop now, or did house really replace it for you?
DJQ: I'm definitely more of a house head than hip-hop, although I still listen to hip-hop occasionally. [When I do listen], I find myself listening to older NY hip-hop and rap artists more so than the new ones of  today. I go to predominately House clubs, but every now and again I'll end up in a hip-hop party and really enjoy myself. Big-Ups to the House Dance Conference NYC Parties where you can hear it all under one roof! Good Times!
JC: We'll make sure we make it down. For now, we're looking forward to sharing New Year's Eve with you. Until then!!!