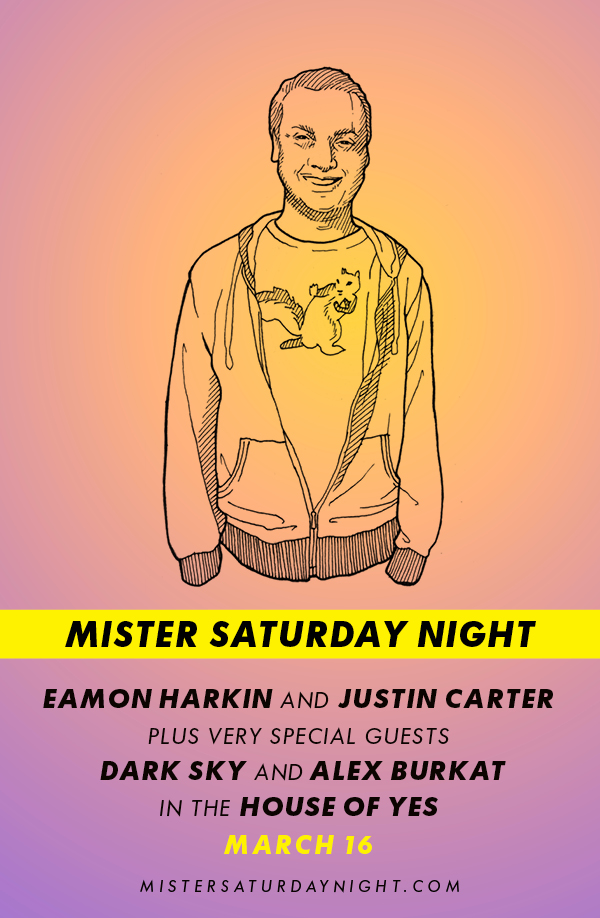 ****Alright, folks. Fifty tickets on the door tonight at 10pm, and then they're gone. If you can't make it early, we'll open doors again at 2am.****

_/_/_/_/_/_/_/_/_/_/_/_/_/_/_/_/_/_/_/_/_/_/_/
It's been almost two months since we got down in Brooklyn. Too long.
Our first party back is a family affair. Alex Burkat and Dark Sky – the next two artists to release records on the Mister label – are joining Eamon and Justin for a night of trading records on the big blue soundsystem at the House of Yes.
We'll bring the disco ball, you bring your appetite for dancing. (We'll try to fix the smoke machine in between now and then. Anyone know where to fix a smoke machine?)
Beer's free for the first hour of the evening; it's $10 to get in before midnight with an RSVP to mister@mistersaturdaynight.com; and it's $15 otherwise. Advance tickets are a good idea as well, as an RSVP doesn't guarantee admission, and the party's filled to capacity every time we've done it since May of last year.
That's all for now. We'll see you soon.