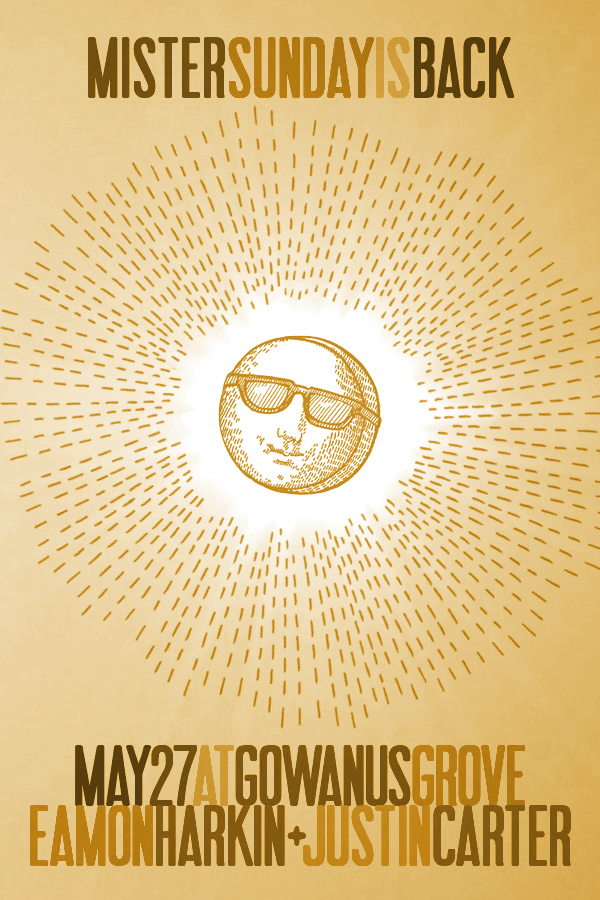 This Sunday we're back on the Grove for opening day. Country Boys will be back serving tacos, the bar will be stocked once again with Sangria, Sixpoint, Limonata and cold brew coffee, and the disco ball will be hanging in the trees.
Mister Sunday's Opening Day with Justin Carter and Eamon Harkin / Sunday, May 27 from 3pm – 9pm at Gowanus Grove (400 Carroll St between Bond and Nevins, Brooklyn) / $10 in advance at residentadvisor.net/mistersaturdaynight / $10 before 5pm with RSVP to mister@mistersaturdaynight.com / $12 otherwise // map  // all ages***

IMPORTANT THINGS TO KNOW ABOUT SUNDAYS AT GOWANUS GROVE

***Kids under 18 go free with as long as they're accompanied by a grown-up, and dogs are welcome as long as they're on a leash. We have bike parking inside. No outside drinks are allowed, but fear not: we have beer, sangria, water, lemonade and cold-brewed coffee inside. In order to drink beer and sangria, you'll need a wristband. Follow the signs, or ask a staff person to find the wristband station.
We close at 9pm on the nose. Before you leave, please throw all your trash and recycling in the appropriate bins so the neighbors' front stoops aren't junked up, and on your way home, keep your voices low so that the folks in the neighborhood can have a little peace and quiet. They're really nice for having us around, and we want to stay in their good graces so we can keep bringing you Mister Sunday.
Finally, have an awesome time.
Then, from the great outdoors to the great indoors…

Mister Sunday goes late at 12-turn-13 with Justin, Eamon and very special guest Todd Terje.
at 12-turn-13 (172 Classon Ave between Park and Myrtle, Brooklyn) / Sunday, May 27 from 10pm to 5am  / $15 before midnight at the door with RSVP to mister@mistersaturdaynight.com or with a stamp from Mister Sunday's day party / $20 otherwise / advance tickets available over here / map to venue / 21+*
*Although we absolutely love to play host to our all-ages friends, the operators of the space make the rules. When we can, we do it all-ages, but for 12-turn-13, we've gotta keep it twenty-one and over. Gowanus Grove IS all-ages, though, so you can come and get down with us there!