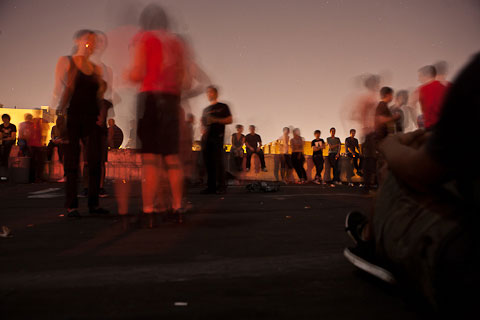 This is Mister Saturday Night. Welcome. These are the rules of the house.
1. First and foremost, enjoy yourself.
2. Please don't use cameras and phones on the dancefloor, and leave bulky handbags at home or, when it's cold outside and we have it, in coat check. We ask that you not use cameras and phones because we want the dancefloor to be a place where everyone can be in the moment. If you're tweeting, texting or taking a picture of your friends, you're not only out of the moment, you also might be making it hard for someone else to be in the moment.
3. At the door, keep in mind that the cover is really the cover. Everyone likes a deal, but throwing parties has its costs, and we need your help to make it happen. If you're supposed to be on the guestlist or will call but you're not, don't give the nice folks working at the door a hard time. They've heard a lot of stories, and though yours might be true, the only thing they have to go on is what's in front of them. If there's ever an issue, just pay to get in, and email us after the fact, and we can sort it out.
4. Please don't bring your own drinks into the party. Drinks at the bar are cheap anyway.
5. Be nice to everyone. Obviously. Tip well. Say excuse me if you bump into someone.
6. If someone's making you feel uncomfortable in any way, please let someone who's working know. We will try our best to nip it in the bud.
7. If you're on the dancefloor, dance! There are typically plenty of places at our parties where you can stand and socialize off the dancefloor.
8. Please smoke outside. (And when we're outdoors, please smoke off of the dancefloor.)
9. Our DJ booth sits right next to the dancefloor. If you lean on it, run into it, or bump it, records will start skipping. Please be careful of it.
10. When DJs are in the booth, it may not always look like it, but they're working. Even if they're not actively mixing, they're surveying the dancefloor, thinking about what to play next, and trying to make sure that the music stays just right. It's okay to ask them what song they're playing, but beyond that, please save conversations for when they're out of the booth.
11. The DJs at the Mister have a particular musical vision. Please don't make requests.
12. Finally, we realize that, as you're cool enough to take the time to read through our list of rules, you're likely on the same page as us already. We're an open door kind of party, though, and sometimes there are new people who aren't bad folks but don't yet understand what the Mister is all about. If you feel like someone doesn't know the scoop, it's okay to tell them – in a nice way, of course. This party is yours, and if you can help bring newcomers into the fold of what we're doing, it'll make things even better than they already are. If you're not comfortable talking to someone directly, that's cool, too. Just tell a security guard, or really any staff member, and they can steer people in the right direction.
Thanks for reading. We're glad you're with us. We hope you enjoy yourself.